| | | |
| --- | --- | --- |
| | | |
| | "Roger Russell has given me good service for 10 years so there was no doubt that I would buy my new furnace from him. The Supreme Heat 2750 is self-contained and heated our new 4200 square foot show room flawlessly all winter. It actually heats about 6000 square feet because I had a duct run off to heat my new office and another room, too." | |
— Sherm Truss
Sherm's Marina, Lake Mississinewa, IN
| | | |
| --- | --- | --- |
| | "We've saved 100% on heating costs. We turned off our four conventional gas furnaces and don't plan to turn them on again. The Supreme Heat model 275,000 BTU heats our 4900 square foot service department and mechanics stay warm even when they're under the hood or under a vehicle." | |
— Frank McCrocklin
McCrocklin Ford, Middletown, IN
Supreme Heat furnaces are designed and engineered by Roger Russell, president of Furnace Design Technology, LLC. Doing
business as Russell Distributing for 25 years, Russell has
represented and serviced many brands of used oil furnaces
during that time. The company sells its Supreme Heat brand
to distributors around the country.
In-the-field experience, troubleshooting other brands' problems, gave us the insight and knowledge to develop a superior product that is revolutionary in the auxiliary heating industry.
Furnace Design Technology delivers a high efficiency, durable, and reliable product at a reasonable price. Supreme Heat —
a new line of furnaces.
For a dealer near you and detailed product information, call 317.399.5810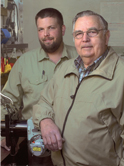 Roger Russell, president, and Ron Russell, vice president, preparing for UL testing of Supreme Heat's patented furnaces.